This seminar on Artificial Intelligence in Dermatology was held on February 2021 by the IADVL*. There are three presentations (see below for links).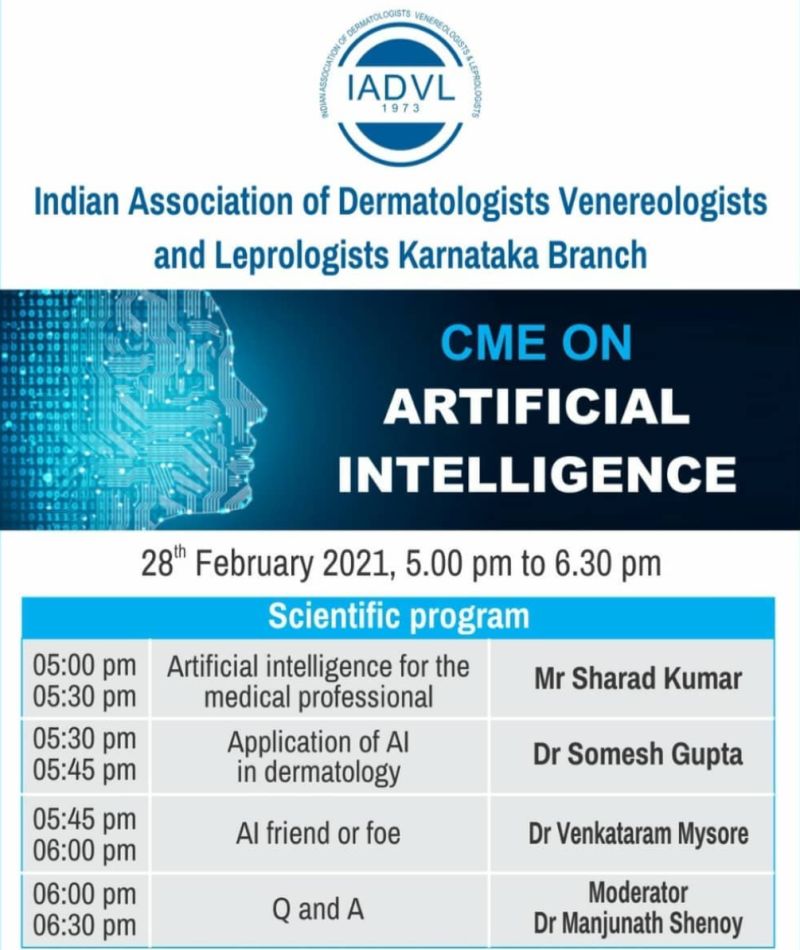 Application of AI in Dermatology by Prof Somesh GUPTA – All India Institute of Medical Sciences (AIIMS) in New Delhi, India [LINK to presentation]
The impact of AI is more profound than electricity and fire.

In a survey 35years old seems to be the cutting point between a positive and negative view of AI….it's not what you think !
Learning points:

Human vs machine reasoning. What applies to a doctor making a diagnosis ?
Resistance from many in the medical community

AI plays a role where pattern recognition is important: which specialties does this apply
Presentation of the publication in JEADV published in Feb 2021 Pangti R el al. A machine learning-based, decision support, mobile phone based application for diagnosis of common dermatological diseases.

Causes of poorer performance
Accurate very well in skin cancer, but not yet well in inflammatory dermatology.
Very accurate when the top 3 differential diagnosis's added and not just the top diagnosis.

Publications comments:

BCC diagnosis machine-learning vs dermatologists & non dermatologists
Covid19 recognition of skin rashes using ML
Review of literature
Artificial Intelligence for the Medical Professional by Mr KUMAR Sharad – New Delhi, India [LINK to presentation]
Learning points:

Which medical specialties publish the most ?

Regulation for AI in Health (Diagnosis, Validation, what is a device) ?

New AI in Health tools validates by the FDA

The hype cycle of digital health

How to validate an AI solution into healthcare (validate in silico – validation in the real world and implementation in healthcare)

Algorithmic bias and data biases

Technology advances: taking an example from cars

The model developed and how it learns and improves from an engineers perspective.
AI friend or foe by Dr Venkataram Mysore – ILDS** in Bangalore, India [LINK to presentation]
Learning points:

AI is everywhere an dermatology is no exception: list of changes
Advantages of AI
Lancet: the fate of medicine in the time of AI: what does it mean to be a doctor. When will it become so powerful. Is it that predictable ?
Progress of AI in Health: where we are and where do we hope to be ?
Role of clinicians and data scientists in the development of solutions using AI
Uses in Dermatology, dermoscopy, dermatopathology
Apps for consumers
Apps for diagnostic aids
Apps for treatment settings for lasers for example, surgery, hair transplantation, injection of fillers.
Diagnosis: VisualDx
Fear and Pessimistic views. Are these true ?
*IADVL: Indian Association of Dermatologists and Venerologists
**ILDS: International League of Dermatological Societies