Digital pathology, or post 4th industrial revolution pathology has advantages and disadvantages.
Pros
it's faster,
it's cheaper,
it's easy access,
Second opinion options are easier to get
Research is easier to do
Teaching is easier to provide.
Storage of the the data is easy.

Compare physical storage of 5,000 glass slides with 5,000 digitized e-slides on the cloud.
Data is the oil of algorithm development so research in Artificial Intelligence-AI (Augmented Intelligence-AuI) analyze and teach and educate and research…as long as the researcher in dermatopathology is able to ask the right questions.
Cons
it's expensive. If you are looking for a big automatic scanner, then the cost could be $150,000 (2020).

However, the gain in productivity of 10% or more compensates for this after one year.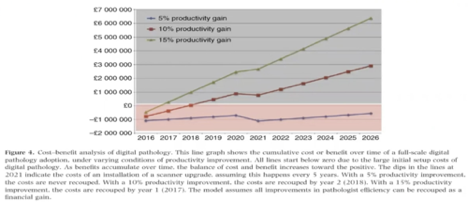 rules and regulation. It is always slower than the technology.

There can be obstacles regarding data laws as well as HIPAA requirements in the US…be wary of them
Conclusion
Pros outweigh the cons.
The concept that traditional histology is better than digital pathology is not valid anymore. According to the presenter traditional microscopy, with glass slides will gradually phase out and digital pathology will continue to grow.
The only caution is that you look at your state, federal, and region laws and regulation so that you don't do anything you're not supposed to do.
Babar Rao, MD. The Emerging Role of Tele-confocal and Tele-pathology in Global Dermatology. 8th World Congress of Teledermatology, Skin Imaging and AI in Skin diseases – November 2020